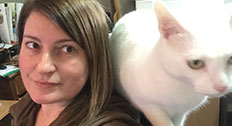 Hi, I'm Cheryl Laxton! I am a technical reviewer and inspector for QAI. I joined the QAI team one year ago after 13 years of independent inspecting. I have consulted and inspected for many specialty food programs including organic, fair trade, farm animal welfare, non-GMO, gluten-free and on-farm food safety. I work out of my home office in Vancouver, BC Canada.
I am from Mission, British Columbia, a smaller city located one hour east of Vancouver, Canada, but I also spent part of my childhood growing up in a small farming community in Alberta. I earned a degree in home economics from the Faculty of Agriculture at the University of British Columbia in Vancouver. The focus of my studies was human nutrition and food science. I have been working in the organic industry since I graduated with my bachelor's degree in 1999. It is my belief that how agricultural practices are managed directly affects our communities in terms of personal health, environmental impact and economics. It is my choice to be involved in the organic movement to contribute to building a global sustainable food system.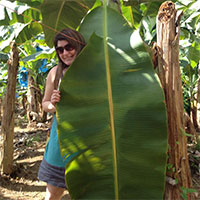 A true home economist at heart, I love cooking, canning, home brewing, gardening, hosting dinner parties and quilting. I am also a serious cat lover. I enjoy spending time outdoors and recently purchased a kayak so I intend to spend more time at BC's lakes and rivers. I am an avid traveler and try to take an international vacation each year. My next trip will be to Hawaii where I am honeymooning with my new husband. I'm looking forward to seeing some Hawaiian agriculture!