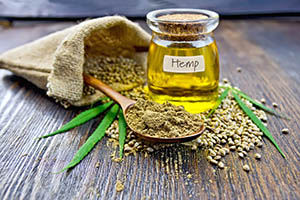 Why test and certify your hemp raw material or finished product?
Hemp and hemp-derived cannabidiol (CBD) are widely available in U.S. products ranging from dietary supplements, beverages and packaged foods to oils, creams and sprays. These products can be manufactured and marketed by companies with little expertise in quality management, Good Manufacturing Practices (GMPs) and labeling requirements, creating potential risk and confusion for consumers.
Rigorous standards, validated tests and third-party audits are needed to protect consumers using products that contain hemp or hemp-derived CBD. Without requirements and testing, hemp and hemp-derived CBD products may contain:
Pesticides, heavy metals and other contaminants
E. coli, Salmonella and other microbes
Undeclared ingredients
Quantities of ingredients that conflict with labeled amounts
THC at more than 0.3% by dry weight
Why work with NSF International?

For more than 75 years, QAI's parent company, NSF International, has been focused on developing public health standards and certification programs that help protect the world's food, water, consumer products and environment. NSF International provides services that enable hemp growers, processors and manufacturers to produce, process, and package hemp products in ways consistent with current GMPs, appropriate quality-control procedures, and applicable labeling requirements.
What hemp testing and certification services do QAI and NSF offer?
NSF International and Quality Assurance International (QAI), an NSF company and organic certifier, now offer the following services to manufacturers and marketers of products containing hemp or hemp-derived CBD:
Contents certified product certification
GMP registration
USDA organic certification
NSF's non-GMO certification
NSF's gluten-free certification
What products do you certify, test and provide other services for?
NSF offers its testing and certification services for U.S.-grown and legally imported hemp crops and products containing hemp or hemp-derived CBD. This includes dietary supplements, foods, beverages and personal care products.
Why should I certify my hemp product as USDA organic?

Consumers are seeking high-quality hemp products and are more likely to trust products that are tested and certified by an independent organization. Organic certification means you've invested in your facility and your supply chain all the way down to the farmer to ensure your product containing hemp-derived ingredients was produced and handled using without prohibited pesticides, synthetic fertilizers or GMOs. More sustainable organic farming practices also support soil health. If you plan to market your product as organic, going through the certification process is required. Products bearing USDA organic certification provide a level of transparency and trust that consumers simply can't get any other way.
How experienced is QAI with organic certification of hemp products?
QAI has been certifying legally imported hemp and products containing hemp as organic since 2014 and began offering organic certification of U.S.-grown hemp and hemp-derived products in August of 2019. QAI offers more than 30 years of industry-leading technical expertise, dedicated client support and a widely recognized certification mark.
What other top certifications should I consider for my hemp product?

Non-GMO. Consumer demand for transparency around genetically modified organisms (GMOs) continues to grow. NSF's non-GMO certification program aligns with the USDA's National Bioengineered Food Disclosure Standard (NBFDS), a rule requiring food manufacturers, importers and retailers to ensure bioengineered foods are appropriately labeled and prohibiting undisclosed genetically modified DNA from being present in the finished product. Our program also streamlines the certification process by recognizing USDA organic certification as evidence of meeting NSF's non-GMO certification requirements.

Certified Gluten-Free. Demand for gluten-free products continues to rise. Consumers seeking gluten-free are put at ease when they see a third-party certification mark. NSF's gluten-free program is compliant with the U.S. FDA's Gluten-Free Labeling Final Rule. And with NSF, brands can combine gluten-free certification with our food quality and safety programs to save time and money.
Are your services affordable for small businesses?
NSF and QAI offer competitive certification and testing fees for companies at every stage of growth, from start-ups to multinational corporations. You can also bundle certification and testing services to reduce costs.
Contact us to learn more about eligibility of your hemp-based products.