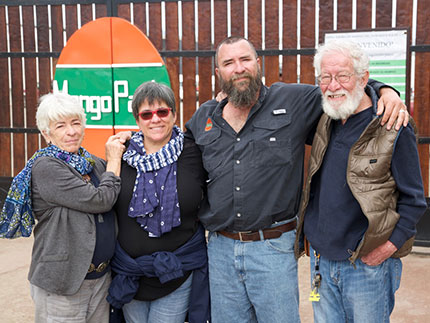 My name is Alma Rivera Collazo. I am part of a Puerto Rican clan that has based its operations in Tecate, Baja California and, more recently, San Diego. Family is extremely important to me. I have a husband, two sons, a daughter, both a daughter-in-law and a son-in-law, three indoor cats (one of them is most certainly a cat-dog), three outdoor cats and a snake called Dostoevsky. The leader of our clan passed away last year, but is with us every day, with our mother, my genius brother, my two incredible sisters, and my big lot of nephews and nieces. I even have grand-nephews and grand-nieces. We are a productive bunch!
I lived most of my life in Puerto Rico, where I completed my bachelor's degree in humanities, with a minor in Latin American and Caribbean history. I have a master's degree in educational research and evaluation and am in the process of completing my research and presenting my dissertation for a Ph.D. in linguistics. My alma mater is the University of Puerto Rico, Rio Piedras campus. My educational background got me into translation, writing and editing within the educational publishing industry, as well as into training and training development. It was my background in research and evaluation that got me into compliance, and my experience working in human resources and violence prevention programs that got me into social responsibility.
For nearly the last five years I have worked supporting teams in their certification process on labor, health and safety, food safety and environmental compliance. I have had the privilege of working with farmworkers, helping them expand their knowledge and advocating for better working conditions for all. As part of this team we were able to certify farms and packinghouses in Tecate (Baja California), Puebla, Guadalajara and Guatemala. This experience has been truly life-changing and turned me into an advocate for life.
I recently joined QAI's team in San Diego as Group Lead. I am impressed with the organization and with my new coworkers. I look forward to continue working within the industry, now from the world of organics, making sure better opportunities and products are available for our producers, handlers, traders and customers.