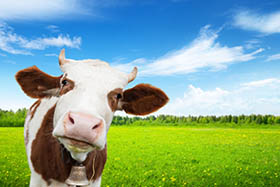 Studies have repeatedly shown that organic milk has a healthier nutritional profile. Organic milk contains more of the good omega 3 fatty acids, more antioxidants and a higher nutrient mineral content than conventional milk. Dairy cows under organic management eat more grass than those under conventional management, which results in more nutrient-rich milk.
A new study conducted at Emory University, in collaboration with The Organic Center, found that a majority of samples of conventional retail milk tested positive for residues of antibiotics – two of which are banned from dairy production – and for residues of controversial pesticides. Organic milk showed no such contaminants. Residues of growth hormones in conventional milk were 20 times higher than in organic. The results of the study were published in June by the peer-reviewed journal Public Health Nutrition.
Highlights of the findings, according to The Organic Center:
Antibiotic residues were detected in 60% of conventional milk samples and none of the organic samples. Significantly, 37% of the conventional samples tested positive for sulfamethazine, and 26% for sulfathiazole, both of which have long been outlawed in lactating dairy cows. Furthermore, one of the conventional samples contained residue levels of amoxicillin that exceeded the federally-allowed limit.
Bovine growth hormone (bGH) residue levels were found to be 20 times higher in conventional milk than organic.
Pesticide residues of chlorpyrifos, atrazine, permethrin and more were found in 26% to 60% of conventional samples and none of the organic samples. Residues of the controversial and restricted-use pesticide chlorpyrifos showed up in 59% of the conventional samples.
For this study, researchers developed methods that are more sensitive than those used in past analyses, including testing methods that have been used by the U.S. Food and Drug Administration (FDA), and measured levels of chemicals that were previously unreported.
"These new methods give us a true picture of the presence or absence of residues in milk. The methodology was proven and solid, and put systems in place to control for results that would inaccurately indicate the presence or absence of the residues [false positives and false negatives]. The statistical significance was so clear and decisive that it gives us confidence that what we found in the study would also be the results of a larger sampling," said Dr. Jessica Shade, Director of Science Programs for The Organic Center.
Resources
Read more from The Organic Center.
Read USA Today's article about the study.