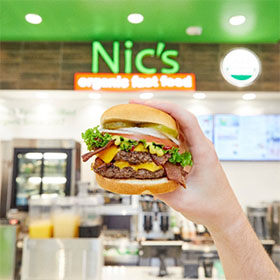 Name: Neal Zeavy
Title: Co-Founder
Company: Nic's Organic Fast Food
Products certified: As a quick service restaurant, and the first in the U.S. to be certified organic, 100% of our menu items and ingredients are certified organic by QAI, from our ketchup and salad dressings to our burgers, chicken nuggets, soda and ice cream!
Why did you choose organic certification with QAI?
At Nic's, we're absolutely obsessive about organic food. That's why we offer customers all their favorite fast foods, only healthier. Burgers made with the finest, pasture-raised and 100% grass-fed organic beef. Organic vegetables fresh off the farm and grown without any harmful pesticides. Salads topped with freshly-made dressings. And, milkshakes and dairy products created using only clean, wholesome ingredients.
We felt QAI's stringent certification process lived up to the high standards that we hold ourselves to. It lets the customer know just how seriously we take serving only the best, certified-organic fast food. Having QAI certification conveys to our guests that we only serve the finest organic food items available.
Tell us about your exciting upcoming business developments or products.
Founded in 2017, Nic's is super excited to have just opened our third location! Now, we have locations in Rolling Meadows and Schaumburg, Illinois as well as Chicago proper in the business district called the Loop! With a daytime population of over 100,000 hungry people, this location opened in December and already has a loyal following.
What do you think is the next big thing in organic?
Not to toot our own horn, but I think the next big thing in organic is more quick-serve establishments like Nic's Organic Fast Food! Our customers are absolutely thrilled to have organic meal options on the go. I project many more traditional restaurants and fast food restaurants will be following our lead and seeking organic certification.
What keeps you up at night?
Always thinking of new menu items for our hungry customers!
Share your favorite organic recipe!
Our Organic Mocha Milkshake!
We start with organic, vanilla soft serve ice cream crafted by Blue Marble. Next, we top it with our organic iced coffee, a touch of organic heavy cream and decadent organic chocolate syrup. Then, we give it a good whirl with the shake machine. Topped off with our organic whipped cream, and made in-house, this is one shake to rule them all!