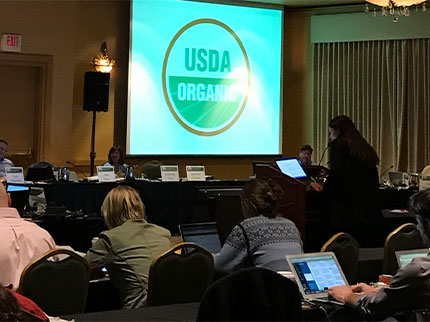 QAI participates in the biannual National Organic Standards Board (NOSB) meetings where proposals related to materials and organic practices are discussed and voted on or sent back to the subcommittees for further development. Our staff provides statistics to the board regarding which materials are currently being used by our clients, as well as insights into industry practices. This information helps inform board members regarding the essentiality of a material before they vote for its continued inclusion or removal from the National Organic Program standards. The information also brings industry context to the board's discussions and decisions.
The most recent NOSB meeting took place on April 24 to April 27, 2018 in Tucson, AZ. The NOSB conducted its initial review of 41 sunset materials as well as several petitions and proposals at this meeting. The sunset review process is a periodic review of materials currently on the National List intended to evaluate their continued eligibility for the National List as established by the criteria in the Organic Foods Production Act (OFPA). There were no votes on sunset materials at this meeting. Rather, the Board collected information and discussed various issues related to each material in preparation for the final vote on these sunset materials at the Fall 2018 NOSB meeting in St. Paul, MN. The recommended changes to the National List or to the organic requirements are summarized below. It is important to note that recommendations from the NOSB are not enforceable by certifiers. The National Organic Program (NOP) must accept the recommendations and then publish a proposed rule that reflects those recommendations. When the proposed rule is published, there is an additional opportunity for public comment before NOP publishes the final rule.
Recommended Changes to the National List
The following materials are recommended by the NOSB to be removed from and/or added to the National List:
Polyoxin D zinc salt was petitioned for inclusion at §205.601 for use in organic crop production as a biofungicide or biochemical pesticide for the control of various fungal diseases on various species of plants, such as cottonball disease on cranberries, black rot, downy mildew, powdery mildew, bunch rot on grapes, mummy berry on blueberries, Phomopsis leaf spot on strawberries, downy mildew on basil, etc. The NOSB recommended that polyoxin D zinc salt be added to the National List for this use. If accepted by NOP, polyoxin D zinc salt will be added to §205.601(i).

Sulfur was petitioned for inclusion at §205.601(h) for use in organic crop production as a molluscicide to control slugs and snails. The NOSB recommended that sulfur be added to the National List for this use. Elemental sulfur is already permitted under §205.601(e)(5) as an insecticide (including acaricide or miticide), under 205.601(i) as a plant disease control and under 205.601(j)(2) as a plant or soil amendment. The NOSB also recommended (Fall 2017) the addition of elemental sulfur to the National List for use as a pesticide on domestic livestock. If accepted by NOP, sulfur will be added to §205.601(h).

Magnesium chloride is currently listed at §205.605(b) as a nonagricultural synthetic substance for use in organic processing. The NOSB recommended that magnesium chloride be reclassified as non-synthetic and moved to §205.605(a). The decision was based on the 2016 technical report, which detailed that magnesium chloride can be produced both synthetically and non-synthetically, and public comment that indicated there would be little impact to the industry to require that only non-synthetic forms be used. Moving the substance to §205.605(a) would mean that organic processors using magnesium chloride would need to reevaluate their source to ensure they are using the non-synthetic version and provide supporting documentation to QAI. If accepted by the NOP, magnesium chloride will be moved to §205.605(a).
NOSB Votes on Proposals
The following subcommittee proposals related to the National List or other organic standards issues were discussed and voted on by the NOSB:
Recommendations on proposal: Clarifying "emergency" for use of synthetic parasiticides in organic livestock production
The NOSB voted to pass this proposal, which recommends adding the following changes to the organic regulation, sections 205.2 Definitions and 205.308(b):

205.2 Definitions: Emergency (treatment for parasite control in breeding, dairy and fiber bearing animals). An urgent, non-routine situation in which the organic system plan's preventive measures and veterinary biologics are proven, by laboratory analysis or visual inspection, to be inadequate to prevent life-threatening illness or to alleviate pain and suffering.

205.308(b): (i)Organic livestock has been managed according to 238(b) and 238(c)(2), 238(c)(4), and603(a)(23) and only in the event of an emergency where management strategies have been proven insufficient to prevent or control parasites within the accepted threshold for specific parasites, age and species of the animal. These management strategies include but are not limited to, forage height and plant diversity to maintain parasite levels below treatment thresholds and monitoring with documentation of parasites through use of methods such as fecal monitoring and FAMACHA (FAffa MAlan CHArt—used for tracking anemia in goats and sheep).
(ii)The organic system plan is changed to prevent a similar livestock emergency in individual animals or the whole herd/flock in future years.

The intention of the rule change is to clarify "emergency" so that the use of synthetic parasiticides is not abused, and certifiers and operators consistently enforce the organic requirements. Providing this clarification also provides a better understanding of what organic certification agencies should look for in an organic system plan and operators should use as preventative management practices. Clarification of when an emergency would allow use of synthetic parasiticides on organic livestock is a necessity to provide consistency, trust and integrity.

Recommendations on proposal: Inspector Qualifications and Training
The NOSB voted to pass this proposal, which recommends that the National Organic Program develop minimum qualifications, training and continuing education guidelines to ensure a professional and competent inspector pool to meet the demands of ever-evolving and complex organic supply chains. The subcommittee proposal includes criteria outlined in the discussion section of the document. In addition, public comments were submitted that further offer suggested criteria and considerations.

Recommendations on proposal: Eliminating the Incentive to Convert Native Ecosystems to Organic Production
The NOSB voted to pass this proposal, which recommends adding the following changes to the organic regulation, sections 205.2 Definitions and 205.200 General:

§205.2 Definitions: Native Ecosystem: Native ecosystems can be recognized in the field as retaining both dominant and characteristic plant species as described by established classifications of natural and seminatural vegetation. These will tend to be on lands that have not been previously cultivated, cleared, drained or otherwise irrevocably altered. However, they could include areas that had been substantially altered over 50-100 years ago, but have since recovered expected plant species composition and structure.

§205.200 General – additions in bold: The producer or handler of a production or handling operation intending to sell, label, or represent agricultural products as "100 percent organic," "organic," or "made with organic (specified ingredients or food group(s))" must comply with the applicable provisions of this subpart. Production practices implemented in accordance with this subpart must maintain or improve the natural resources of the operation, including soil and water quality.
(a) A site supporting a native ecosystem cannot be certified for organic production as provided for under this regulation for a period of 10 years from the date of conversion.

The intention of the recommended rule change is to remove the incentive to transition native ecosystems into organic production, which currently can potentially be transitioned into organic production without the 36-month waiting period because of the lack of prohibited input use on these lands. The NOSB feels the 10-year wait period between conversion of a native ecosystem and subsequent organic certification proposed is a strong disincentive to convert native ecosystems to organic production.
Other Materials, Petitions and Updates
Other materials, petitions, and updates that did not result in changes to the National List include:
Petitions that failed:

Glycolic acid - petitioned for addition to 205.603 (livestock)

Sodium Dodecylbenzene Sulfonate (SDBS) – petitioned for addition to 205.605(b) (Handling)

Discussion documents (issues) sent back to subcommittee for further development:

Import Oversight (discussion document): This topic was the highlight of the NOSB meeting and the subcommittee asked for detailed input from the industry in the discussion document. An expert panel was invited to provide knowledge and insights of the current situation surrounding organic integrity along the supply chain and to give recommendations for how to move forward. The panel provided recommendations on which types of operations should be certified and which operations should remain excluded from certification. The ultimate suggestion was to focus first on exempt handlers in the middle of the supply chain and then work on retailers and other areas of exemptions. The subcommittee will re-evaluate which areas to focus on initially and bring back a proposal in Fall 2018.

Protecting the Genetic Integrity of Seed Grown on Organic Land (discussion document): This discussion document asked for ideas from the industry to start the discussion on how to address the risk of GMO contamination of organic seeds and crops. The subcommittee will re-evaluate which areas to focus on initially and bring back a proposal in Fall 2018.

An initial sunset review and discussion of the following 2020 sunset materials did not result in a vote or recommended change to the National List. These materials will be voted on at the next NOSB meeting in Fall 2018. QAI encourages operators using these materials to provide written or public comment prior to the fall meeting:

Crops, Livestock: Alcohols – ethanol, isopropanol

Crops: Sodium carbonate peroxyhydrate, newspaper or other recycled paper, plastic mulch and covers, aqueous potassium silicate, elemental sulfur, lime sulfur, sucrose octanoate esters, hydrated lime, liquid fish products, sulfurous acid, ethylene, microcrystalline cheesewax, potassium chloride

Livestock: Aspirin, biologics, vaccines, electrolytes, glycerin, phosphoric acid, lime–hydrated, mineral oil, sucrose octanoate esters

Handling: Calcium carbonate, flavors, oxygen, potassium chloride, alginates, calcium hydroxide, ethylene, glycerides (mono and di), magnesium stearate, phosphoric acid, potassium carbonate, sulfur dioxide, xanthan gum, fructooligosaccharides (FOS), gums: Arabic, carob bean, gellan, guar, locust bean, lecithin–de-oiled, tragacanth

USDA appoints new members to the NOSB:
On April 25, 2018, the USDA announced the appointment of two new members to the National Organic Standards Board. Their terms begin immediately.

Dr. James Greenwood from California has been appointed to fill the open environmental protection and resource conservation seat. Dr. Greenwood is an organic avocado farmer and handler and has served on the board of directors for the USDA Hass Avocado Board. He has served on the faculty of the School of Public Health at University of California, Los Angeles where he has been actively engaged with UCLA's Institute of the Environment and Sustainability and its Center for Public Health and Disasters. Dr. Greenwood holds a master's in public health, a master's in microbiology and a doctorate in microbiology.

Mr. Eric Schwartz, also from California, has been appointed to fill the open organic handling seat. Mr. Schwartz serves as the chief executive officer for the United Vegetable Growers Cooperative. Before that, he served in a number of roles at Dole, including as senior vice president for operations. He served on several panels and boards, including California's Healthy Soils Initiative, and co-chaired the start-up of the California Leafy Greens Marketing Agreement. Mr. Schwartz also served as a board member for the Arizona Leafy Greens Marketing Agreement. He has been involved in different aspects of organic growing, harvesting and processing for over 20 years. He holds a bachelor's in logistics management from Penn State University.