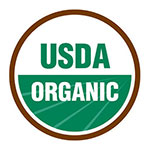 The National Organic Program (NOP) wants to hear from you. The NOP is calling for the public to comment on the National Organic Standards Board (NOSB) Spring Meeting agenda. This is your chance to weigh in on proposals related to materials and organic practices that will be discussed and voted on at the meeting to be held April 29 to May 1 in Crystal City, Virginia.
Find the tentative agenda, proposals and discussion documents on the NOSB Spring 2020 Meeting website. You can also explore the proposals and discussion documents on the NOSB's subcommittee pages for crops, handling, livestock and materials/GMO.
The National List of materials is not stagnant or guaranteed. Each material is reviewed on a five-year cycle known as the "sunset process." Without input from the industry, a material may be removed and no longer allowed in organic production. Speak up in support of materials you currently use.
Materials being discussed for removal include those listed below and many more.
Crops:
Aquatic plant (e.g. seaweed) extracts
Insecticidal soap
EPA List 4 inerts (commonly used in approved pesticides)
Livestock:
Butorphanol
Flunixin
Poloxalene
Handling:
Sodium bicarbonate
Colors
Glycerin
Cornstarch
The NOSB is also discussing some production practices, including ion exchange filtration and research priorities for the industry.
Share your written comments in the docket by April 3. If you would like to provide oral comments to the NOSB, you can do so during webinars on April 21 and 23 as well as at the in-person meeting that begins April 29. You must also register to comment publicly at the webinars and the meeting by April 3.