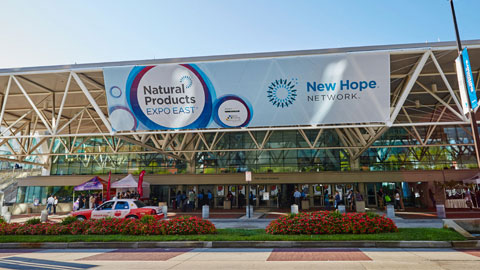 This year, QAI exhibited at Expo East and led a standing-room only Certification Made Easy workshop at on organic, non-GMO and gluten-free label claim certifications. We were so inspired by the energy and enthusiasm at the show! The movement propelling the trends we saw at the show is consumers looking for innovative products that help them enhance their vitality and performance while contributing to positive environmental changes.
Here are the top trends at Expo East:
Protein for health: Plant-based protein, meat alternatives, avocado- and coconut-based offerings, and healthy fat and protein continue to be mega-trends. Consumers are loving the clean and wholesome appeal of plant-based nutrition.
It's alive!: Probiotics, kefir, kombucha, fermented drinks and niche kombucha-based beverages are finding success with retailers and variety-seeking health-conscious consumers. The demand for sparkling beverages, fueled by La Croix sparkling water, doesn't seem to be slowing down either.
Nourish your beauty: Foods and supplements that enhance vitality, appearance and endurance are hot right now. Essential oils for ingestion, teas that are designed to improve circulation and alleviate fatigue, collagen supplements… the list goes on.
Eat well, do well: Verified brands that take advantage of trusted verification marks such as non-GMO, gluten-free and Raised Without Antibiotics are what consumers have come to expect.
More energy now!: We saw a lot of coffee such as cold, nitro, sparkling, protein and fat-enhanced, as well as coffee-flavored nutritional beverages.
DIY: Seed kits, kefir grains, grow your own garden, etc. The do-it-yourself trend continues to flourish.
Overall what we noticed is that organic, non-GMO and gluten-free have become must-have labels to create a basic level of trust among consumers. Email us today at info@qai-inc.com to find out more about obtaining these certifications!