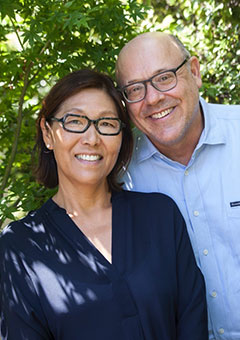 Name: Annie Chun and Stephen Broad
Title: Co-Founders / CEOs
Company: gimMe Health Foods Inc.
Products certified:
Roasted Seaweed Snacks, Sushi Nori, Seaweed Rice Chips, Seaweed Thins
Why did you choose organic certification with QAI?
QAI is an industry leader with a great reputation and great customer service. gimMe was the first company/pioneer to create organic roasted seaweed snacks, which were all produced in South Korea, so we needed a strong certification partner to handle this global task.
Now some 10 percent of the roasted seaweed snack harvest in Korea is organic, so together gimMe and QAI have made a major impact on our global waters and in our global food chain.
Tell us about your exciting upcoming business developments or products.
In April 2018, gimMe received a Supplier of the Year Award for Organic Commitment from Whole Foods Market. Seaweed is one of Whole Foods' best-selling healthy snacks, and more retailers are recognizing the amazing velocity story of seaweed, especially when merchandised properly so that moms and kids can find the product. We just launched our USDA Organic Seaweed Thins, a delicious sandwich of seaweed and nuts glazed with a tasty sauce. One bag has four to six grams of protein, six to seven grams of fiber and only 100 calories. Everybody at Expo West loved the product!
What do you think is the next big thing in organic?
Seaweed is the next big thing in organic! Kids LOVE seaweed snacks, but consumer awareness and household penetration are relatively low, though growing. Given that seaweed is the most nutrition-dense food on our planet and highly sustainable, there is huge future upside by getting more kids to eat seaweed. Kids start eating seaweed as toddlers, and by injecting a highly nutritious and savory food in their diets at an early age, kids will not be raised solely on sugar that starts with the baby foods and continues with traditional processed foods, leading to this country's major obesity epidemic and other serious health problems like diabetes, cardiovascular diseases, etc. Seaweed is high in many nutrients like iodine (for thyroid and brain function), biotin (skin), vitamin C, iron, fiber, protein, potassium, etc.
What keeps you up at night?
Quality and business execution. gimMe pioneered not only USDA organic seaweed snacks, but also raised the bar hugely to create a premium seaweed snack. We are extremely picky about the seaweed raw material used for our products, and about making sure every package tastes great so that the consumer experience is great! Otherwise, there are a whole host of business execution challenges whether logistics, promotion, execution, rising about the noise, connecting to consumers, etc.
Share your favorite organic recipe!
Organic Sushi
Ingredients
1 sheet gimMe Organic Sushi Nori
1/2 cup organic brown rice
1 oz sashimi-grade tuna or hamachi, sliced into strips
1/4 organic avocado, pitted and sliced
Organic tamari sauce
¼ tsp wasabi (optional)

Directions
Lay the sheet of nori, shiny side down, on a bamboo mat.
Wet your fingers with water and spread the rice over the nori in an even layer, leaving a ¼-inch border at the top edge.
Spread the wasabi (optional) across the center of the rice and lay the fish and avocado on top.
Roll the bamboo mat away from you, curling the nori and rice around the filling. Secure the roll with the 1/4-inch flap of nori and gently squeeze to form a rough square shape.
Lift the roll off the bamboo mat and transfer it to a cutting board. With a damp knife, slice the sushi into six even pieces. Serve with organic tamari sauce for dipping!