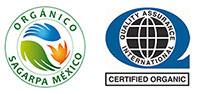 QUERÉTARO, Mexico and SAN DIEGO, Calif., - QAI (Quality Assurance International), Inc., a leading certifier of organic food in North America and part of the global public health organization NSF International, has received approval from Mexico's National Service of Agro Alimentary Health, Safety, and Quality for the Agrofood Industry (SENASICA) to certify to the Organic Products Law (LPO). The QAI office in Mexico (NSF de Mexico S de RL de CV) can now certify organic ingredients and products to the required Mexican organic certification law under the LPO for any organic product or food claiming "100% organic", "organic" or "made with organic," in order to be sold in the Mexican marketplace.
QAI has over 25 years of experience certifying organic ingredients and products, and the QAI experts in Querétaro, Mexico can now issue LPO certification for organic ingredient importers allowing entrance into the country with the third largest number of organic food producers.1
"Our QAI experts in Mexico have a thorough understanding of the local, regional, national and global organic markets," said Isabel Coronado, Regional Director of Operations in Querétaro for NSF International. "With accreditation to LPO, QAI can now certify organic ingredients and products from national and international companies for the Mexican organic retail market. Working with parent company NSF International, QAI can also offer other food and quality certifications such as GFSI benchmarked schemes for food safety certification including SQF, BRC, FSSC 22000, IFS, BAP, GlobalG.A.P. andPrimusGFS. This can help reduce a manufacturer's time and resource commitment."
In addition to the LPO certification for Mexico, QAI offers certification to the National Organic Program (NOP) in the United States, the Canadian Organic Regime (COR), the European Union (EU) regulation and Japanese Agriculture Organic Standard (JAS).
According to Agriculture and Agri Food Canada, Mexico's organic retail market size is expected to grow annually by 15.4 percent in 2018. Some 50 percent of this market is in organic packaged food.2 Additionally, 40 percent of consumers in Mexico between the ages of 18-55 years surveyed by Global Data in 2015 said they were interested in organic certified products. 3
The labels of products certified by QAI making the "100% organic" or "organic" claim should display the following marks and information:
A certified by QAI (or similar phrase) statement
SENASICA-assigned NSF/QAI identification number
QAI-assigned certified operator identification number
A non-GMO claim identifier
The QAI name and address may also be included on the product label.
For more information on QAI's organic certification services in Mexico, please contact Rodrigo Garcia, Certification Project Manager, QAI at rgortega@qai-inc.com or +52 1 (442) 467-7089. For QAI organic certifications outside of Mexico, please contact Tracy Favre, Director, QAI Certification Services, at 858-200-9704 or info@qai-inc.com or visit QAI's website.
Editor's note: Media seeking more information or to schedule an interview with a QAI and/or NSF International expert can contact Liz Nowland-Margolis at media@nsf.org or +1 734-418-6624.
About QAI (Quality Assurance International): Founded in 1989, QAI is a leading provider of organic certification services, verifying organic integrity throughout the supply chain. Additional certification services include certified transitional, gluten-free, kosher, natural personal care, social responsibility and food safety through its parent company NSF International. QAI remains dedicated to the environment while providing educational outreach to the organic community, customers and consumers. Headquartered in San Diego, California, the company has grown to include operations in the U.S., Canada and Mexico.
NSF International is a global independent organization that writes standards and tests and certifies products for the water, food, health sciences and consumer goods industries to minimize adverse health effects and protect the environment. Founded in 1944, NSF is committed to protecting human health and safety worldwide. Operating in more than 170 countries, NSF International is a Pan American Health Organization/World Health Organization Collaborating Center on Food Safety, Water Quality and Indoor Environment.
1 Willer, Helga and Julia Lernoud (Eds.) (2017): The World of Organic Agriculture. Statistics and Emerging Trends 2017. Research Institute of Organic Agriculture (FiBL), Frick, and IFOAM – Organics International, Bonn. Version 1.3 of February 20, 2017.
2 International Markets Bureau: The Modern Mexican Consumer Behaviour, Attitudes and Perceptions Toward Food Products. (2012). Retrieved 2017 from http://www.agr.gc.ca/resources/prod/Internet-Internet/MISB-DGSIM/ATS-SEA/PDF/6375-eng.pdf.
3 2016 Q4 Consumer Survey Data – Mexico (2016 ed., Rep.). Globaldata. Retrieved June, 2017.