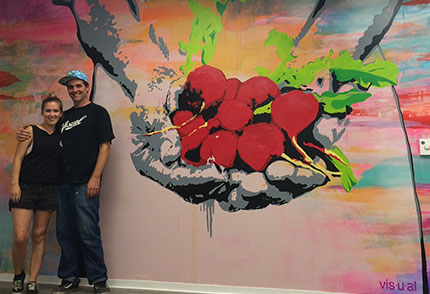 A few weeks ago, QAI moved to a new office in San Diego. We're conveniently just down the street from our old building, which we had been in since our founding in 1989! As the organic industry has taken off, so has the size of our team, and we needed a bigger space with room to grow and collaborate.
To emphasize the fresh, dynamic vibe of our new workspace, we engaged local San Diego street artists Jason and Frieda Gould of Visual to create original art for our lobby. This mural welcomes every visitor with the QAI commitment to organic integrity and customer service.
To celebrate our vibrant new home, we threw a housewarming party with local organic food companies in attendance.
An additional, exciting new development: QAI has launched a new price structure for small businesses and start-ups. This new pricing makes organic certification through QAI's professional, reliable services more accessible to emerging businesses. Contact QAI to get the price sheet.