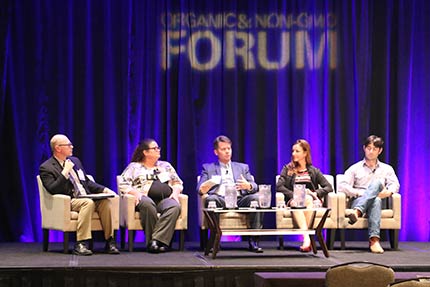 QAI participated on the Certified Transitional: Approaches to the Market Panel at the recent Organic & Non-GMO Forum held in Minneapolis, MN. Sarah Krol, Global Managing Director of Food Safety Product Certification at NSF International, QAI's parent company, spoke about QAI's Certified Transitional Program and how it fits into the movement to expand organic agriculture in the U.S. There was a lot of interest expressed in this new initiative and many interesting viewpoints and questions raised in the session.
The Organic & Non-GMO Forum follows the Oilseed & Grain Conference hosted at the same venue and was developed in response to the increased interest by these sectors in learning more about the organic and non-GMO market and its trends.
Earlier in the year, QAI staff attended two major events: the Western Organic Dairy Producers Alliance Conference in Grand Mound, WA (Katherine Withey and Holly Born, QAI reviewers, staffed the booth) and the Canadian "Organics on the Hill" Policy Conference in Ottawa, Canada.