Here's what QAI staff has been up to recently: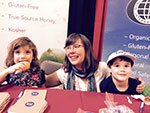 Roxanne Beavers hosted QAI's booth at the Guelph Organic Conference held in Ontario, Canada on January 26-29 and attended various sector meetings regarding updates to the standard and pending revisions to the organic regulation. She has been attending the Guelph conference since 1996 and was thrilled to expose her kids to the show this year.
QAI staff members Kasey Moctezuma and Alexis Randolph attended BIOFACH in Nuremberg, Germany on February 15-18. BIOFACH is the world's leading trade fair for organic food and hit a new record this year as this show reached the 50,000 visitor mark. 2017 was the 27th year for the annual show, which featured 2,785 exhibitors from 88 countries. QAI participated in an extensive selection of seminars regarding the organic sector.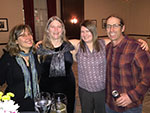 Roxanne Beavers (left), Cheryl Laxton (second from right) and Stanley Edwards (right), pictured here with Margaret Scoles, Executive Director of IOIA, attended the IOIA Advanced Training and Annual Meeting in Ottawa, Ontario, Canada in March 23-24.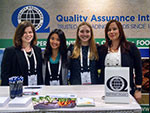 Several QAI staff members, including certification project managers (left to right) Christine Langevin, Angel Harnish, Ellery Ward and Allison Nilson, attended Natural Products Expo West & Engredea March 9-12 in Anaheim, California. The world's largest natural, organic and healthy products event, experienced a record-setting year with more than 80,000 attendees. For a fun summary of the event, check out this video by New Hope.