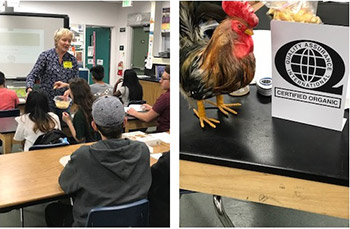 This summer QAI visited students in San Diego's Patrick Henry High School's AP Environmental Science class to talk about organic farming certification. We were excited to share what we know about organic certification with the next generation and hopefully inspire some of them to work in sustainable food production.
Living in an urban environment can make learning about agriculture hard to understand, but Lori Hooker, one of QAI's most experienced certification project managers, shared real examples and applicable skills like reading food labels in her presentation. Lori even held a taste test of organic vs. conventional products.
We had a great time sharing our love for organic food production with these students and look forward to returning next year to teach about organic certification again! If you would like QAI to speak about organic food production at your San Diego school or college, please contact us at qai@qai-inc.com.