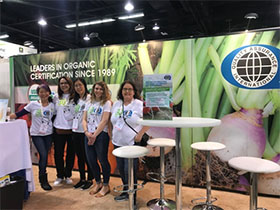 Natural Products Expo West is the world's largest natural and organic products event, held in Anaheim, California. Spanning over five days, with 86,000 attendees, the opportunities for innovation, networking and educational events were endless.
The new trends swarming the expo halls this year were CBD/hemp-based products and plant-based meat and dairy alternatives. There was no shortage of vegan nacho cheese, dairy-free yogurt and meatless burgers that tasted like they had come straight off of the line at In-N-Out!
Along with these innovative product trends, the show was bursting through the seams with dozens of big name brands featuring their certified organic products and promoting Regenerative Organic. The organic movement has never seen better days and top brands in the industry are taking the leap to "step up to organic."
QAI was well represented, with 239 clients exhibiting and proudly displaying 'Q' placards. QAI had a 10' x 20' booth with a shared space (10' x 10') for our Consumer Values Verified program. This space was manned by our Certification Project Managers for Questions, Answers and Information (get it)?! Wrapping up the show, QAI hosted an anniversary party celebrating 30 years of organic integrity with cupcakes and an ice cream sundae bar, all organic of course.
In other news, have you seen the new optional certification mark? This mark was fresh off the press and just in time to release to the public at Expo West. For those of you who haven't had the opportunity to see it yet, it reads "If it's organic, it's non-GMO." This is an optional mark that may be used to educate your consumers on the benefits of organic.