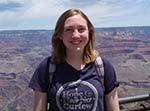 Hi! My name is Ellery Ward, and I am a Certification Project Manager at QAI. I joined QAI's parent company NSF International as an intern, and I learned a lot about its Non-GMO Project verification and gluten-free certification services. I joined the QAI team as a Customer Service Coordinator, and then became a Certification Project Manager last October. Since diving into the world of organic certification, I've come to love working with my clients and learning from my colleagues.
I grew up in San Diego County with my parents, sisters and a menagerie of farm animals. I got a bachelor's degree in kinesiology at Occidental College (affectionately known as Oxy), a small school in Los Angeles. When I wasn't studying, I was able to volunteer with the American Cancer Society's Relay For Life events, and with the International Programs Office helping new international students with their transition to life at an American college.
It was at Oxy that I developed a passion for public health. I spent a semester studying abroad with the School for International Training's India: Health and Human Rights program, where I gained new perspectives on what health is, and conducted a field work project on cleft lip and palate care. Back in Los Angeles, I participated in internships that exposed me to both community-level and policy-level health care work in multicultural settings. I learned about many of the socioeconomic determinants of health, and met inspiring individuals and organizations that are working to create positive change.
After realizing the impact that agriculture has on environmental health, and the impact that what we put in our bodies has on our personal health, I wanted to enter the organic world! I love coming to work every day and knowing that I am playing a small role in helping provide access to foods and personal care products that people can trust are better for their health and for the environment.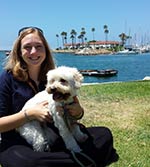 In my spare time, I enjoy serving at my church and spoiling my poodle-bichon-terrier mix Nilla. No matter how old she gets, Nilla will always be my baby puppy. I love working in my backyard garden and turning my homegrown food (especially my favorites – beets, potatoes, carrots, tomatoes and leafy greens) into delicious plant-based vegan meals! Sunny San Diego is the perfect place for casual scenic hiking, but I also love travelling to see different landscapes. Last spring my sister and I took a road trip from Minneapolis to San Diego. We stopped at six national parks and, despite getting lost a few times, had wonderful experiences exploring the beautiful natural diversity that the U.S. has to offer.