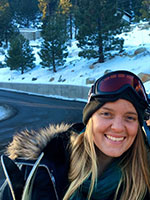 Hi! My name is Melanie Barnes, and I'm a certification project manager at QAI. I was born and raised here in San Diego, then went up north to the University of California, Davis to study food science and technology. I graduated from Davis last year, went to Thailand for a month to study food microbiology and then worked a harvest in Napa before returning to my favorite city and finding a position here at QAI!
I've always been fascinated by food and its ability to bring people together. I grew up working as my big brother's de facto sous chef—chopping vegetables, measuring flour or cleaning up disastrous attempts at making green fettuccine, all the while laughing and sneaking bites. I'm not an adventurous or skilled cook by any means, but food is my second language, and I love how it serves as a medium for people to connect and communicate. That's why I studied food at school and wanted to pursue a career in the food industry. Which brings us to now… I'm so grateful to be able to live in paradise (San Diego) and work in the food industry, helping my clients with organic certification and learning new things about our food systems on a daily basis.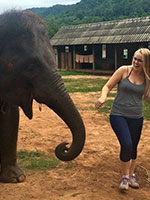 In my free time, I enjoy reading, rock climbing, watching or listening to any and all forms of comedy, collecting sea glass, hanging out with my dog Lily, taking probably too many photos of sunsets and beaches on my phone, and sampling as many San Diego breweries and restaurants as I can. I try to remember every day how lucky I am to live and work in such a beautiful place surrounded by awesome people, and I hope that I can somehow make a positive impact on everyone I interact with.