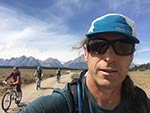 Hi! My name is Stanley Edwards and I've been a Senior Reviewer at QAI since April 2016. I have 20 years' experience in the organic industry, primarily as an independent inspector and reviewer for QAI. I also worked as a trainer for the International Organic Inspectors Association and helped develop the curriculum for the basic processing inspector training as well as the 100-level NOP processing standards course. For several years, I was a senior partner in the consulting firm Organic Concepts, and I am a primary author of the Keep It Organic DVD for processing plant workers.
I grew up in France and in upstate NY, am fluent in French and can speak some Spanish. My love of growing and cooking good food brought me to the organic agriculture movement and while I aspired to being a farmer, I have found my calling in organic certification. For many years I enjoyed traveling the world, meeting organic farmers and discovering how food is grown, handled and manufactured. I enjoy creating training materials, teaching and speaking about our industry to anyone who will listen!
I graduated from Colorado State University in 1994 with a bachelor's degree in international agronomy and a minor in human nutrition. I recently received a master's degree in food safety and quality from Utah State University and have completed lead auditor courses in three GFSI schemes. My passion though is with organic agriculture, processing and standards and so instead of continuing on as a contractor and adding food safety to my consulting business, I decided to join the team at QAI. I love my job, working with our technical and administrative teams and very large diversity of clients, all from my home office in southern Idaho.
One of my main tasks at QAI is working as the technical liaison for the inspection department and our inspectors. My biggest accomplishment in my first eight months has been re-writing the inspector manual and delivering the annual inspector guidance. I am looking forward to the future and continuing to improve and streamline our inspection processes to better meet the needs of our reviewers but most of all, our clients.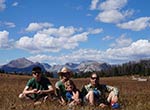 In my spare time, I enjoy being with my wife and teenage boys. We spend a lot of time in the mountains running, backpacking, boating, fly-fishing, mountain biking and all forms of skiing. In the top photo, we are riding our bikes in Grand Teton National Park. In this picture, we are at the start of an eight-day backpacking trip in the Wind River Mountains of Wyoming.