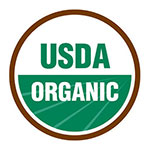 Products certified to the USDA organic standard with at least 95 percent organic content may use the USDA Organic Seal. However, it's really important to use the seal correctly. Here are the top five design guidelines to keep in mind:
First and foremost, the seal must be printed legibly and conspicuously.
Size: The USDA Organic Seal must be larger than the QAI Certified Organic mark.
Shape: Don't warp or change the shape of the seal.
Colors: Don't change or invert the seal's colors. There are only two versions available: four-color and black and white.
Background color: The four-color seal allows a white background, while the black and white seal allows a white or transparent background.
More Resources
Visit the USDA website to:
For more information, please contact your QAI Project Manager.