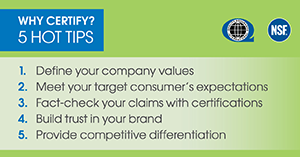 Do you wonder if getting your products certified is worth it? We've got five data-driven reasons why certifications are more important than ever, based on recent consumer and sales data indicating increasing demand for healthy foods, transparency and sustainability.
1. Define Your Company Values
The COVID-19 pandemic is motivating consumers to be more socially responsible, reports the Conscious Consumer Spending Index, which saw an increase in purchases from mission-driven brands in May. Nielsen also recently released data that says 73% of consumers want to change their consumption habits to reduce environmental impact.
Label claim certifications that call out your commitment to sustainability -- organic, non-GMO, plant-based, raised without antibiotics and more -- help your brand connect with conscious consumers.
2. Meet Your Target Consumers' Expectations
Today's health- and eco-minded shoppers expect more from brands. They demand clean, "free-from" and sustainably sourced ingredients. They scrutinize labels for preferred claims. A 2019 NSF International survey found that 85% of consumers trust independent, third-party certification organizations to verify product claims.
A 2020 survey by Linkage Research and the Non-GMO Project found that natural shoppers are more likely to buy products when they see these top certifications:
USDA organic: 41%
Non-GMO Project verified: 36%
Fair Trade certified: 21%
Certified Plant Based: 16%
Certified gluten-free: 15%
By demonstrating to consumers that your product meets or exceeds their expectations, third-party certifications help build trust in your brand.
3. Fact-Check Your Claims With Certifications
Natural products shoppers--those willing to pay more for healthy products--say they consider products' certifications as much as they consider price, according to the NEXT 2019 Certifications Micro Survey from the New Hope Network. What's the best way to reach the 64% of consumers who research label claims when making buying decisions?
Progressive shoppers trust products with independent certification marks that verify the claims they value most.
4. Build Trust in Your Brand
Product transparency is paramount for today's grocery shoppers. When food shopping in-store or online, 81% of consumers consider transparency important or extremely important, in new research from FMI-The Food Industry Association and Label Insight.
So how do brands effectively demonstrate transparency? Nearly half of those surveyed (48%) cite certifications such as USDA organic, ranking second only to providing a complete and clear ingredient list (62%). Put simply, brands that provide verification of ingredients and sourcing earn consumer trust.
5. Provide Competitive Differentiation
You have 7 seconds. Does your packaging communicate your brand values in the time it takes most consumers to make buying decisions? Well-recognized certification marks like organic, non-GMO and gluten-free help your products stand out on the shelf. Transparency-seeking consumers tend to favor brands with clear commitments to independent verification of these highly valued claims.
Reach out to our certification experts to learn more about our certification services and get a free customized quote.
Sources:
The Conference Board® Global Consumer Confidence Survey, conducted in collaboration with Nielsen, Q2 2017
NSF International Consumer Product Concerns Survey, 2019
The Non-GMO Project & Linkage Research Consumer Survey, 2020
NEXT 2019 Certifications Micro Survey, New Hope Network
Transparency Trends: Omnichannel Grocery Shopping from the Consumer Perspective, FMI and Label Insight, 2020
Shopping Takes Only Seconds…In-Store and Online, Ehrenberg-Bass Institute of Marketing Science, 2015